Conference: 18-19 June 2020
University of Oslo, Campus Blindern, Helga Eng's building
Address: Sem Sælands vei 7, 0371 Oslo
How to get from the airport to the city center
Most international flights arrive at Oslo International Airport Gardermoen (avinor.no). There are several ways of getting from Gardermoen to Oslo:
One is the airport express train Flytoget (flytoget.no) which has quite an expensive travel fare, but will bring you to Oslo's central train station in about 20 minutes.
There are also regular local Trains (nsb.no) that can transport you to the centre of town. These have cheaper fares, but run less often and might take slightly more time.
Airport buses Flybussen (flybussen.no) and Flybussekspressen (nor-way.no) stop at a number of Oslo destinations. The estimated time of travel on an airport bus is 45 minutes from Gardermoen to The Oslo Bus Terminal.
Finally, if you like to travel in style, taxis are plentiful but prices are very steep (up to 1000-1200 NOK from the airport to the city); these will take you wherever you want to go. From downtown Oslo, follow the directions below to get to either the downtown (law school) or Blindern campuses.
How to buy a ticket for bus, tram and metro in Oslo
You can find information on how you buy a ticket or travel card for bus, tram, metro, ferry and train in Oslo on the website to ruter.no/en/buying-tickets/sales-outlets/ (external link).
It is not possible to buy tickets on trams and metro carriages. You must either buy a ticket beforehand or pay with pay-as-you-go credit on board without a surcharge. It is not possible to activate the ticket on board the metro. This must be done at the station.
How to get from the city center to Blindern university campus
By subway (T-bane)
From the city center, take line 4 or 5 in a westward direction, to Blindern station. It is about 5 minutes to walk from the station to Helga Eng`s building.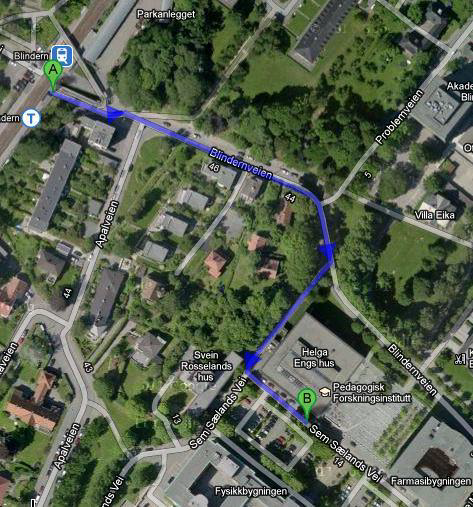 By tram
From the city center, take line 17 or 18 in the direction of Rikshospitalet. Get off at the Universitetet Blindern stop.
Accomodation
Thon hotels
Scandic hotel Oslo City
City Box
Comfort Xpress Youngstorget
Comfort Xpress Central Station
Anker Hotel
Scandic Holberg Hotel Oslo